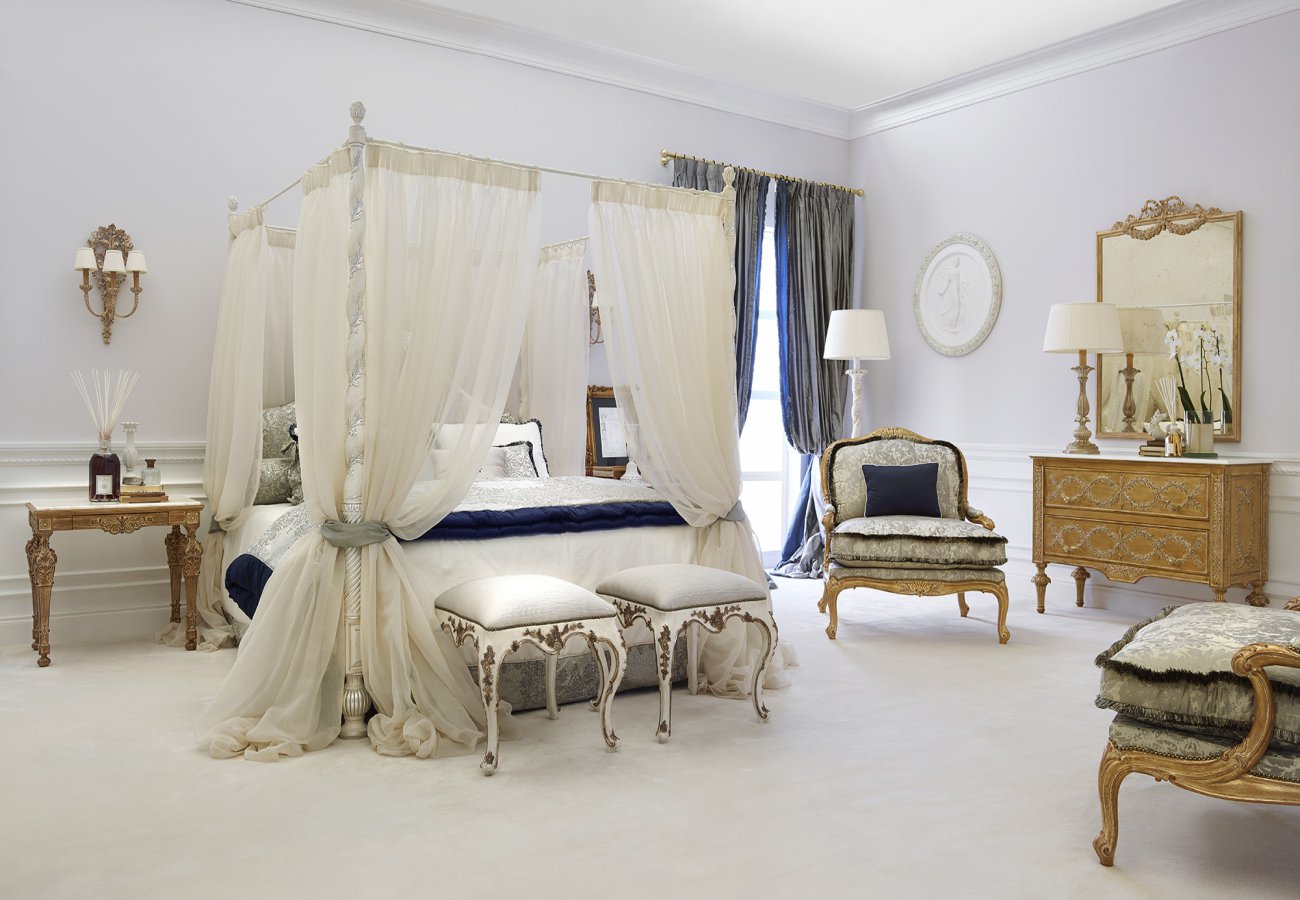 Discovering Roberto Giovannini's Harmonies, amongst the finest fabrics and exquisite finishings
Harmonies, a collection of furniture capable of transforming a living space into beautiful and evocative settings, expressing the sensation of a refined welcoming embrace which only the luxury of classical forms is able to manifest.
Presented at the Salone Internazionale del Mobile 2016 (International Furniture Fair 2016), the collection proposes a wealth of new ideas, fruit of a creativity sensitive to the aesthetic standards of the past, of a refined taste and of a subtle interplay of different volumes, sophisticated colours and sumptuous combinations.
Furniture and accessories with the ability to amaze and which, thanks to the unique characteristics of woodcarvings and of the Roberto Giovannini decorative finishings, become the focus of the living spaces.
The new creations for 2016
The impressive console table (240G) realised with tabletop of 8 centimetres in Breccia Capraia marble, characterised by evident contrasting veins and supported by three Roman lions which rest on the square base, with Canova finishing G007.
The set in Louis XV Tuscan style, composed of a large three-seater sofa (art.1404) and by armchairs (art.1405) with carved bases finished in Oro Decapè Antico G035 and upholstery in dark blue Jim Thompson silk velvet , enriched by a refined marabù finishing which defines the edgings.
The small, round French Louis XVI coffee table, decorated with Oro Decapè Antico G035 and tabletop in Emperador Dark marble (art.1402).
The 'king size' Pitti sofa (art.1104CK), inspired by a piece preserved at Palazzo Pitti, Florence, upholstered in the warmest, relaxing dove-grey velvet.
The extendible dining table (art.1395CDAP) of considerable dimensions: 240 cm plus extensions of 60 cm, with its intricately carved structure resting on 8 legs, enriched by the new Argento Leggero (light silver) G105 decoration enhanced with touches of Noir G086. The parquet tabletop is realised in bleached oak with Versailles design.
The Neoclassical showcase cabinet (art.1401) with two door vertical opening and Noir e Argento G098 ornamentation.
The armchairs (art.1399) and the chairs (art.1400) with padded backrests and soft Roberto Giovannini white velvet seats which complement and exalt the Noir e Argento G098 ornamentation.
The three door dresser with top in marble (art.1403B) and Antico Veneziano G095 finishing, decorations from the limited 'luxury' series realised with the 'Guazzo' gilding method .
The desk (art.1058SLE), imposing and rich in its finest details, with tabletop in soft leather, with variations of Cartier red and refined carvings with Nero Fiammingo G087 decorations. It has three drawers and two lateral pullout surfaces, also finished in leather.
The voluminous bed (art.1397G) with columns decorated in Ciliegio e Argento G017. Upon request, for the more poetic four-poster version, the bed can be fitted with a frame and with curtains of varying transparency.
The new two-door wardrobe (art.1398), realised in perfect Roberto Giovannini Tuscan style with white Ciliegio e Argento G017 decorations.
The vanity table (art.1396A) with small jewellery drawers, embellished by a tilt and turn mirror which conceals a small compartment also finished in Ciliegio e Argento G017.
All the new Roberto Giovannini creations, the perfect synthesis of elegance and artisan expertise, reveal a living experience, the expression of refined, leisurely daily life, capable of bestowing moments of sophisticated wellbeing, immersed in an authentic and timeless luxury.