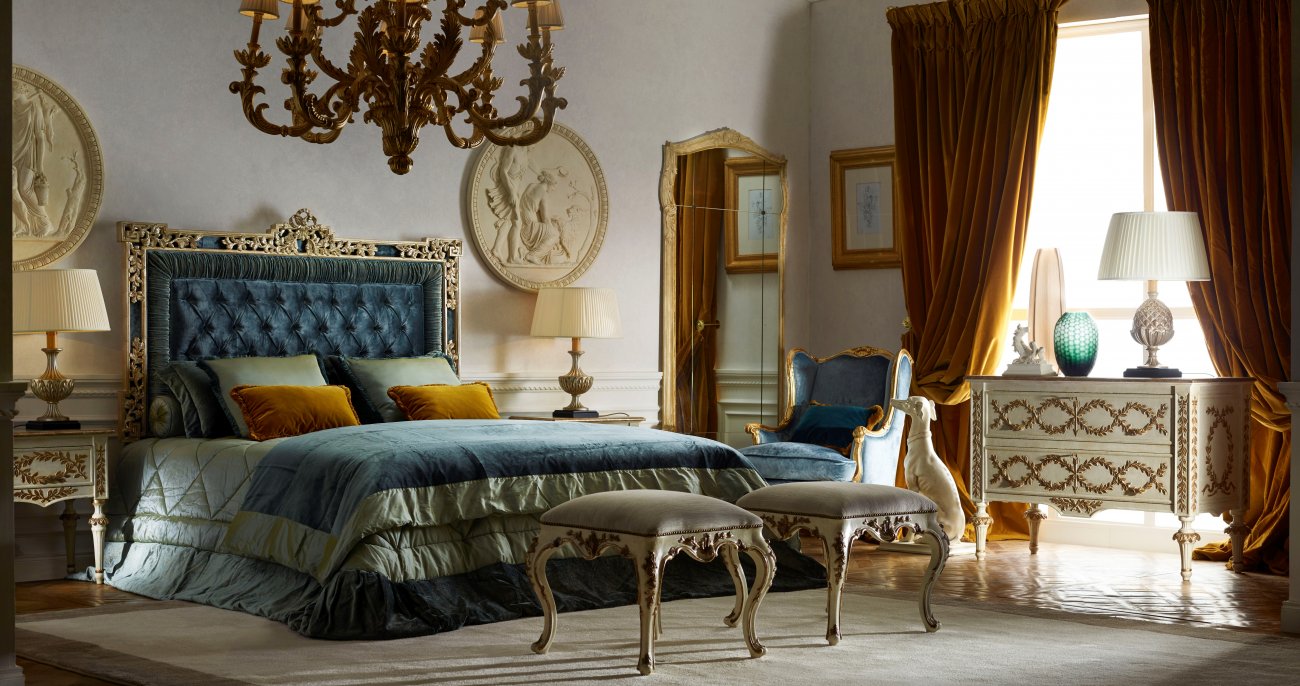 Soleil
The new bed by Roberto Giovannini creates unique and extraordinary possibilities of personalization in your night-time area.
With the Soleil bed headboard, a project born from the most recent Hèritage collection, Roberto Giovannini reaches not only the maximum expression of luxury and comfort in the night-time area, but enables the creation of a 'custom made' bedroom where you can breathe in an atmosphere of intimacy and relaxation.
Presented last April at the Milan Internation Furniture Fair (Salone del Mobile di Milano), the Hèritage collection is born from the desire to breathe new life into the extraordinary styles of an historic period spanning from the 17th to the early 19th centuries, through the furniture and furnishings which were part of it. These styles have become 'universal reference points' for classic furniture and from 1958 have been a source of inspiration for Maestro Roberto Giovannini's creations.
At the Moscow Trade Fair, Roberto Giovannini proposes new versions of one of the most popular and admired pieces of the Hèritage furniture collection, the Soleil bed.
The elegant headboard is now available in three different sizes for the double-bed version (150, 180 and 200 cm) and in two sizes for the single version (100, 120 cm), thus being able to satisfy the most diverse and sophisticated aesthetic and spatial requirements.
Thanks to Soleil, Roberto Giovannini is able to give a form to emotions, creating welcoming and refined rooms, places of true well-being and of the utmost charm, where you can abandon yourself to sweet relaxation, enfolded in a 'dreamlike' setting.
Both in its majestic, double-bed version (1370 GB) and in its more 'modest' single version (art. 1370SB), the Soleil headboard is realised in perfect neoclassical style, with entirely hand crafted soft capitonné padding, and hand-carved frame, enriched with a sophisticated decoration in the form of acorns and oak leaves.
In the double-bed version, Soleil can be embellished with the Dedar Splendido Splendente soft, "lago" coloured velvet, realised with cotton and gold finishing which also 'clothes' the capitonné padding, or personalised with the coordinated Georgette bed set, featuring the same velvet and further enhanced by the more luminous, "bermude" coloured silk. In the single version, however, Soleil can be completed with fabrics and finishings in the delicate pastel-pink tones of Dedar. The structure of the bed headboard can be realised both with the Argento Leggero (Light Silver) finishing as well as in the 50 finishings available from the catalogue.
Soleil exalts the concept of the bed headboard and transforms the bedroom into a 'dreamlike' living space, predominated by colours evoking immediate sensations of calm, softness, relaxation and contemplation.