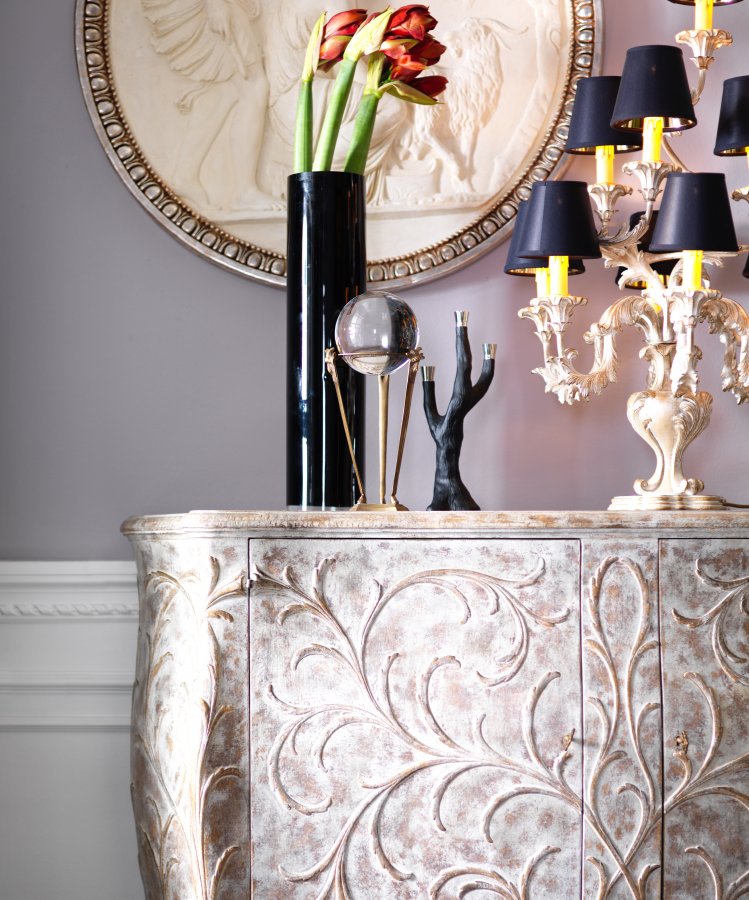 Fil Rouge
History, creativity, passion, classic beauty and… colour, this is the beginning of Roberto Giovannini's new 'story'.
Fil Rouge is the name of Roberto Giovannini's new 2019 collection; a name which reflects its expressiveness.
Roberto Giovannini's Fil Rouge collection is, above all, an expression of continuity. Continuity intended both as a passion for the classic style and for the exquisite art of the highest quality woodcarving; it is also intended as the ability to project into the modern-day epoch the extraordinary luxuriousness of the forms of times gone by, aspects which, right from the outset, have permitted the company to make its mark in the panorama of classic style furniture.
Fil Rouge is born from the Master Roberto Giovannini's exceptional aptitude of knowing how to reinterpret the classic mindset whilst remaining faithful to the proportions and the aesthetic norms of the classic style. He is able to confer to his furniture and furnishings the fundamental characteristics of functionality and ergonomics required to furnish contemporary living spaces.
Fil Rouge presents itself, thus, as a 'collection' of breathtaking images, a procession of extraordinarily beautiful elite interiors which continue to express Roberto Giovannini's aesthetic and conceptual philosophy and the emotions which are transmitted by his creations.
Different settings, ideal places for living the Roberto Giovannini experience, host different types of classic furnishings: different in style, finishings, decorations, materials and fabrics and united by the Fil Rouge of elegance, good taste and sophistication capable of generating an extraordinary and refined 'coherence' of togetherness.
Fil Rouge is also the colour red. A strong shade of colour which is confident, intense and vibrant, symbolising passion and transmitting sensations of true 'warmth'. Associated with furnishings, décor and fabrics or used for personalising a space, it's the colour behind defining the atmosphere and creating emotions.
For 2019, Roberto Giovannini is presenting a collection which reveals an exceptional creative approach to materials, to decoration and to colour. Thanks to unique and amazing combinations, Roberto Giovannini's décor generates fascinating interiors, capable of evoking intense sensations of wellbeing and comfort .