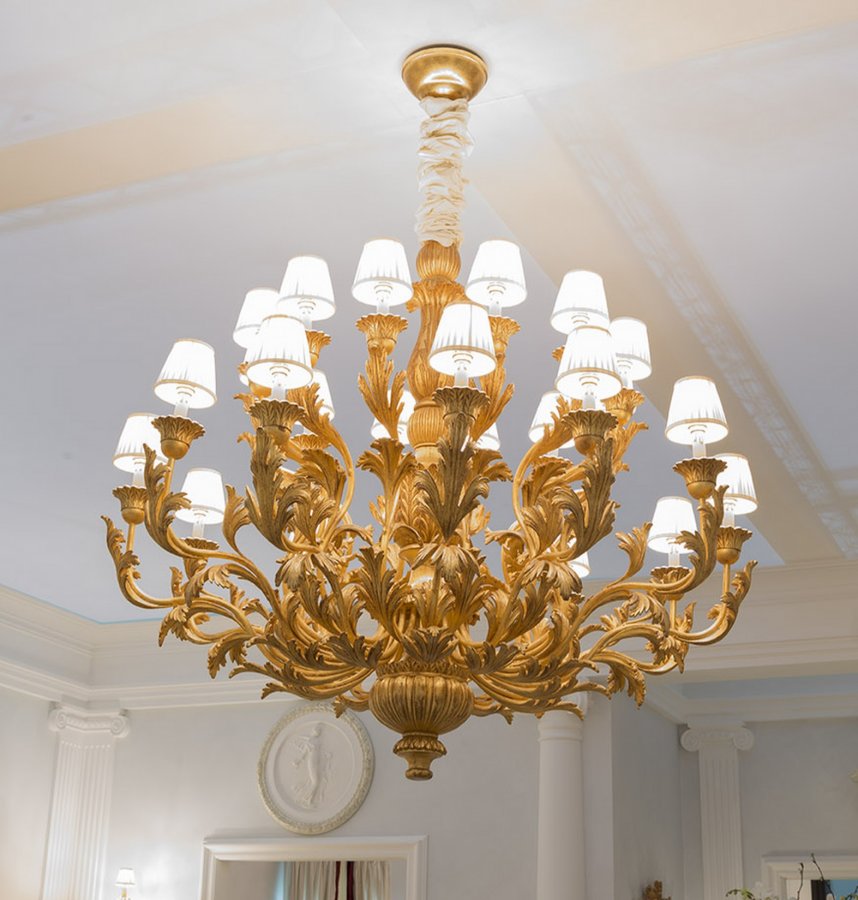 Luminous interpretations of timeless luxury
Luce d'Autore
Roberto Giovannini realises decorative and elegant lamps in fascinating forms, born from the perfect balance between creativity, artisan know-how and a respect for traditional criteria; his creations exalt with a rare virtuosity the natural beauty of solid wood and the expertise of wood carving.
His 'lighting creations' can satisfy the most complex or sophisticated aesthetic requirements of the interior design of large contract, hospitality or residential living environments and express that authentic luxury which still today represents the essence of the unique sophistication which has distinguished epochs of times past.
Roberto Giovannini's lighting fixtures are, therefore, precious objects, often scenographic and realised for creating a refined ambience with evocative and exciting atmospheres.
Placed in a living space, in a dining room, in a bedroom or in a study, they become distinctive elements of the surrounding architecture, valuable furnishing accessories which enhance their setting, going beyond their main purpose.
In fact, Roberto Giovannini's lights take the leading role in a living space, even when turned off, enhancing and giving more of an air of 'nobility' to contemporary settings with the ambition to amaze .
Roberto Giovannini is inspired by objects from times past and from often sublime forms, giving life to a wide selection of decorative lights – for the ceiling, standard lamps, table lamps and applique wall lamps – in different shapes, dimensions, styles and finishings, which enable the personalisation of the finest and most exclusive living spaces .
Creating décor with lighting to gratify the senses, and realising refined interiors with functionality and a strong sense of the aesthetic is the conceptual and productive philosophy from which Roberto Giovannini's light fixtures take their forms.