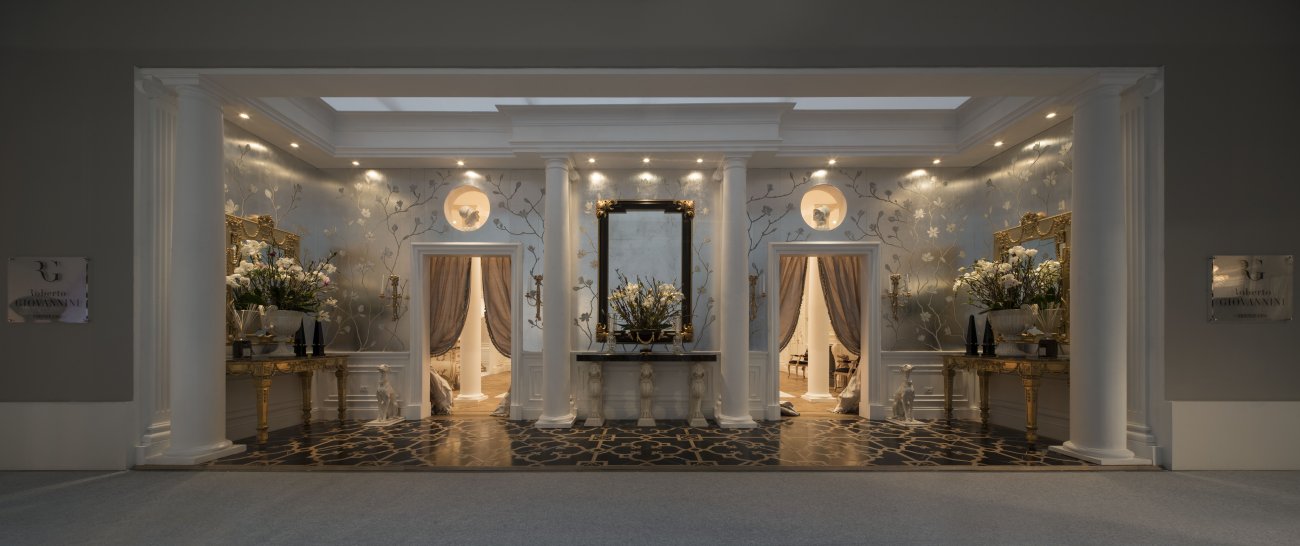 Salone del Mobile 2017 - RG Prestige Collection
Roberto Giovannini's 2017 Collection expresses luxury with new, inspirational ideas
Prestige is the name which 'reveals' Roberto Giovannini's new collection: classic furniture and accessories conceived to breathe life into extraordinarily elegant and 'prestigious' living spaces .
This collection is also able to convey the importance and preciousness of the finest details through its exclusive furniture, the perfect synthesis of elegance and masterly craftsmanship; these are furnishings with the proportions and aesthetic features of classic beauty, confirming their 'natural' ability to project into the modern the authentic luxury of the forms and styles of past epochs.
The unique characteristics of Roberto Giovannini's woodcarvings and finishings, decorations which range from Antique Venetian to the Noir (Black), from Antique White to Silver and the different nuances of Gold, define the uniqueness of the Prestige collection,
The perfect fusion of Neoclassical style furniture, with the simple, plain and elegant Classic, with more grandiose and elaborate Baroque style objects and accessories creates living spaces which fascinate in transmitting the charm of the past, but with a present day allure.
The items included in the Prestige collection are a confirmation of the excellence of Roberto Giovannini's production, including aesthetic nuances and tactile sensations. Each piece of furniture is the result of meticulous design, the preciousness of the finishings and the high quality of the craftsmanship.
Prestige is the balance and harmony of elegant forms capable of transmitting extraordinary visual and tactile perceptions and, with its proposals, it complies with the furnishing requirements of the most sophisticated and sought after living spaces.
Roberto Giovannini expresses a new way of living with a design concept which interprets luxury as a new dimension for décor.
A lavishness which transmits genuine sensations of wellbeing, warmth and comfort and which could be defined as 'custom-made'. The wide range of Roberto Giovannini's proposals, in fact, enables the ideal personalisation of the living space hosting them.